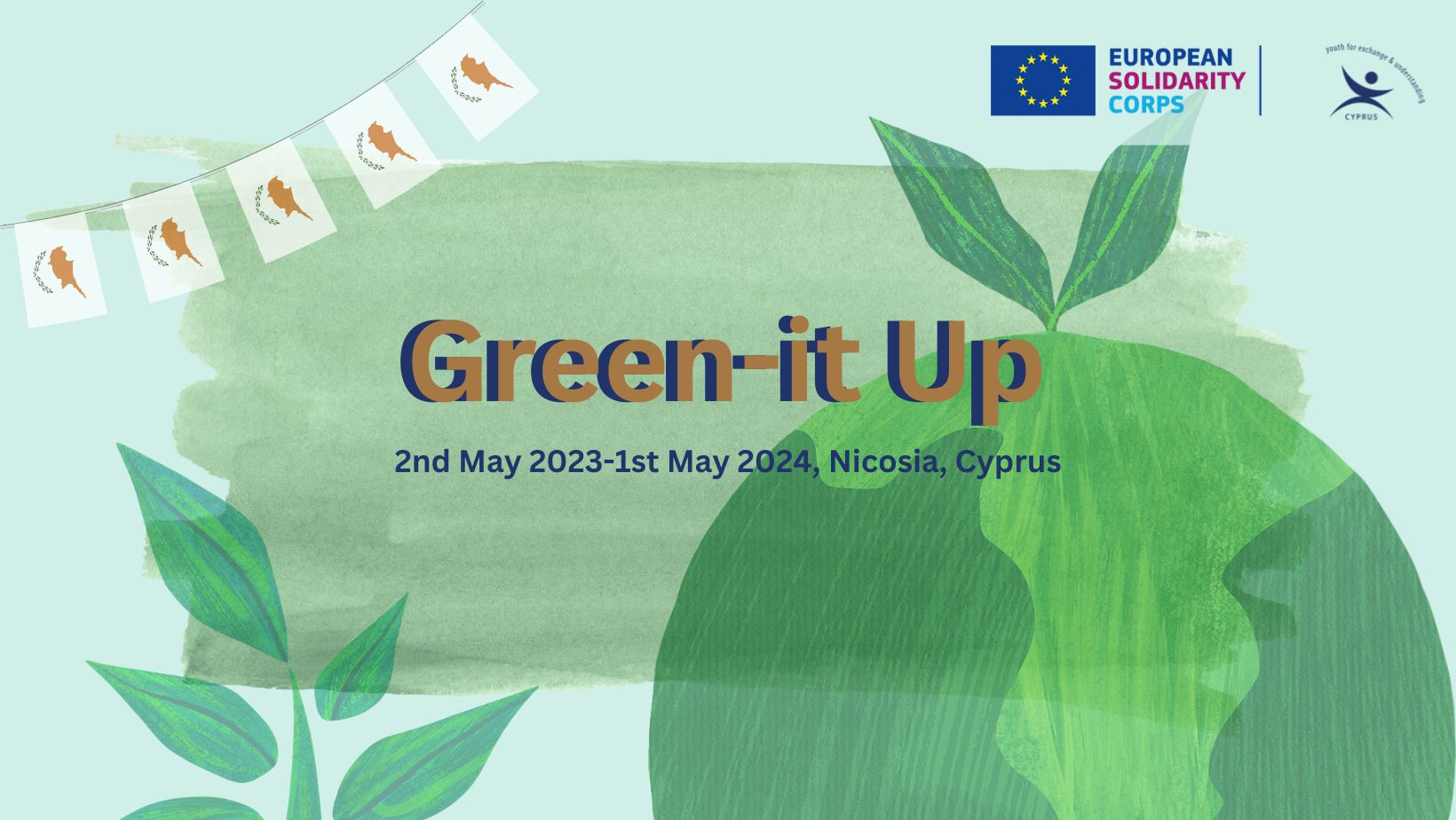 Join our European Solidarity Corps project, Green-it Up for 12 months!
The Project:
The 2023-2024 ESC project Green-it Up aims beyond bringing youth from different countries together under common European goals and solidarity, to advocate for sustainability and environmental action/s.
Through participation in non-formal education, Green-it up promotes awareness of sustainability and climate change and builds the ECO capacity of YEU Cyprus and other NGOs. It aims to increase cooperation among youth towards the elimination or the decreasing of environmentally harmful production/s & consumption/s.
Project Activities:
During the project:
You will be involved in the ECO plan of our organisation and enrich its sustainability.
Through cooperation in research that enchases innovation on sustainability, as well as non- formal trainings, you will eventually promote awareness raising on sustainability and climate change.
You will implement educational and volunteering activities and create opportunities for participation in these for young people in Cyprus.
You will plan, organize and implement educational/informative seminars on climate change, biodiversity, sustainable development.
You will plan, organize and implement public interventions and campaigns (online/virtual or live campaigns) such as videos, artworks and performances.
You will plan, organize and implement EcoArt Workshops with sustainable materials (recurring, or isolated events).
You will plan, organize and implement Eco-field trips as suggestions of best practices and study visits.
You will plan, organize and implement proposal writing for youth mobility on the topics of sustainability and the environment
You will benefit from a complex personal and professional development learning plan.
You will become friends with the other international volunteers.
You will discover the lovely city of Nicosia and the surroundings of the area.
You will discover how beautiful life can be and how great and useful is this kind of work in an NGO.
You will have free time to travel.
*Please note that this list is not limited and you will be able to suggeste activities based on your experiences and needs.
Your Characteristics:
Are you between 18 and 30 years old?

Are you motivated and willing to learn?

Are you openminded and willing to collaborate with people with different religions, sexualities, habits and learning needs?

Are you committed and willing to spend 12 months abroad in a foreign country?

Are you adaptable and easy- going?

An EU citizen?

Are you flexible in working environments and open-minded?

Are you a team worker?

Do you have the willingness and openness to learn new things, such as working with ICT tools and non- formal methodology?
Then this experience is the best opportunity for you!
Further Information:
The volunteers will be accommodated in a shared mixed-gender flat located in Nicosia city center (30 mins walk).
The volunteers will most probably stay in shared (single-gender) bedrooms with shared cooking, washing, laundry and social facilities.
Volunteers will cook by themselves, monthly food allowance will be provided (140 €).
They will be also entitled to receive a monthly allowance of 5 €/daily.
Travel expences will be reimburced up to a maximum based on the EU dinstance calculator (starting point, your hometown. Ending point Cyprus – Only LCA, PFO airports).
To each of the volunteers, a bike will be provided.
Read the infopack carefully for more info .
To Apply:
To apply for the project, candidates have to send their CV to evs@yeu-cyprus.org , and fill in the online application form.
The DEADLINE for the applications is the 8th April 2023.