I am Chloe, I am from the Caribbean Island of Martinique and thanks to a professional contact I heard about this experience at a time when I was searching for some new and challenging opportunities.
But let's start since the beginning, I'm graduated with a Bachelor's Degree in operational marketing in Martinique and I worked as a Web Manager and commercial in the marketing business and as a Web Manager for an expertise business. In everything that I do, I like the ''challenge'' aspect and I always give a space toward my personality.
I remember how lost I felt on my first morning of volunteering, far away of my expectation, but I wasn't expected something clear but something! Arrival training! This part of the beginning was really interesting and surprising with topics like self-development, comfort zone, (formal, non-formal, informal education), different games and tools, etc. With a good structure and good trainers, this is a good way to introduce and understand the goals of this volunteer project. The lifestyle adaptation was the biggest challenge for me, even if I'm totally open mind abut this.
For the past four months, I have been volunteering in the YEU (Youth for Exchange and Understanding) Cyprus office, and I will be here for a total of 12 months working on a project called Mission Tradition. Due to my personal interests, I am creating and coordinating various workshops related to arts and crafts. I have a strong passion for these types of workshops and up until now, we created dream catchers, painted on glass, and learned about other Transatlantic traditions and cultures. On a local level, together with my colleagues, we are exploring the Cypriot traditions; either if we explore the production of honey or roses, their strong links with the history of the country or benefits for the local economy, we, the volunteers of Mission Tradition also make sure that we discover each other and learn about our own cultures and interests.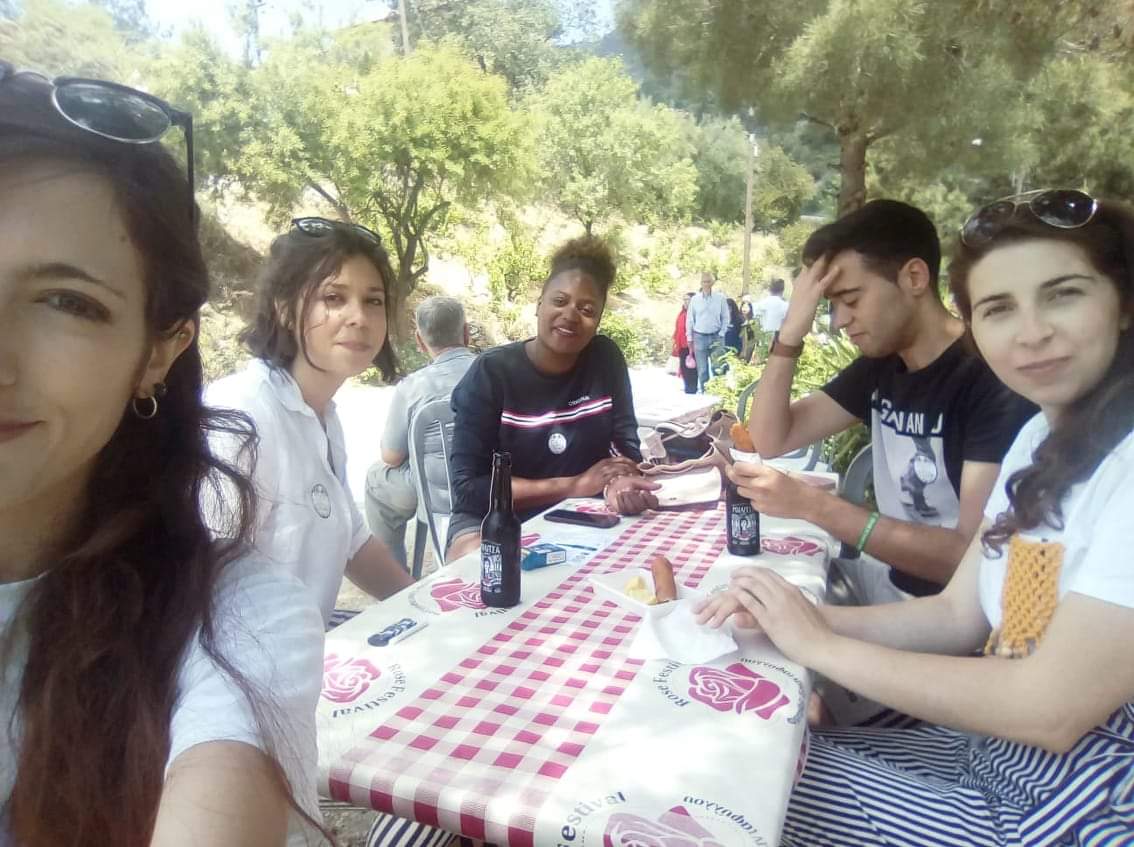 With me, I brought my expertise in marketing and communication and a strong passion for social media development, and I am grateful that I have been offered the opportunity of sharing these skills with the community I am part of now. (From a personal level, I am happy that this project has met my expectations). I was hoping to work in a professional international environment and so far, my experiences have met my previous expectations. I am very happy with my choices, and I genuinely believe that everybody should have this kind of experience. Every country has something different and new to offer, something that can shape our interests and outlook of the world and which we can take back home with us. One of my best experience here in Cyprus from now was a children's festival. I went to this event during which deaf children get the opportunity try all sorts of activities, my role was to communicate and explain to the children the rules of the activities that I create for this event. It was a treasure hunt related to the tradition of Cyprus.
My name is Gabriele and I've always been in arts, I studied theatre for years, first on a practical level in an acting school in my city, then on a theoretical level in the University in Bologna: during and after my studies i made a lot of workshops about acting and I have a couple of experiences as director and workshop leader. Passionate about photography, I know all the processes related to analogic photography (shoot, develop and print) and some skills about digital photography.
How it all started:
Despite my main interests, in Italy I was unemployed, so I decided to take the last train I could to make an experience like that: the age limit for an ESC is 30 years old and, having this age, I chose to spend one year abroad living an amazing experience!
The Project:
Since I arrived in this country, I found a very interesting environment, the issue of Cyprus is at the same time problematic and interesting, it divides a country but, at the same time, create two different environment both full of life and nice people! I found kindness and welcoming spirit from the people of the Republic of Cyprus and of the occupied area. Fortunately, I did not found difficulties to get used to the local lifestyle, I adapt myself very easily and the "sigà sigà" leitmotif fits very well in my lifestyle!
For the NGO where we work, we are running several group project about the tradition of Cyprus, we researched, made interviews, wrote articles about some traditions of the Island: we made a project about the products from roses in Agros and we are working on halloumi making and winemaking. We split tasks each other to run the group project, and we put the work together and we write articles to disseminate on the web through social media and a website.
In those months I was able to visit some areas of the Island and I enjoyed so much! Every experience here are interesting: one of the better situation where I was involved was a pre-marriage party: as I know, in the villages they use to make a week of parties every night before the marriage; the firsts one are reserved for close relatives and friends, like 100 people, and the last one, the one I attended, there was like 300 people: an amazing experience! Local food, local music, local dances and fireworks in a public street arranged for the occasion: I had a great time, it was the most local and traditional experience I had since I'm here!
Another interesting experience was volunteering at a Festival, called Xarkis, in a village called Polistipos, which means "a lot of vine plants" because they use to cover terraces and roofs with vine plants. The festival was focused on music ad performances and I met a lot of artists and musicians during my stay there.
The Outcome: 
Volunteering abroad is a great occasion to meet new people, have a great time thanks to European mobility programs. Knowing different cultures, deal with new uses and a new way of life, cooperate with people from all Europe and know people from all the word is a great occasion to verify how much a person is open-minded and grow up as an individual. It is a great occasion that I suggests to experience every young person can apply. During my stay I improved my English vocabulary, I experiencing to live for one year with unknow people and deal with all our needs, I'm learning greek (sigà sigà) and I'm having the occasion to improve my skills in the art field.