I am from Czechia, so the first impression that I had when I arrived in Cyprus was that "the HEAT will definitely kill me sooner than I will finish my project!". This idea was resonating in my head even before, but I managed to suppress it and decided to boil myself but follow my interests.
At the time I was recent graduate with a passion for exploring different cultures, who did not want to get tied up in a stereotypical job for ages right after studies. And also, if you study cultural anthropology, which was the core part of my studies, although super interesting, in the same time, the best chance is that you will end up unemployed. So, it was quite difficult to find a job in my field, especially without professional experiences. I knew about the what was called EVS projects from my friend, and it sounded as a convenient solution from the begging. What I did not expect was that I will find such a suitable project for me, with a great group of people involved, and that it will turn into one of the best decisions I took in my life.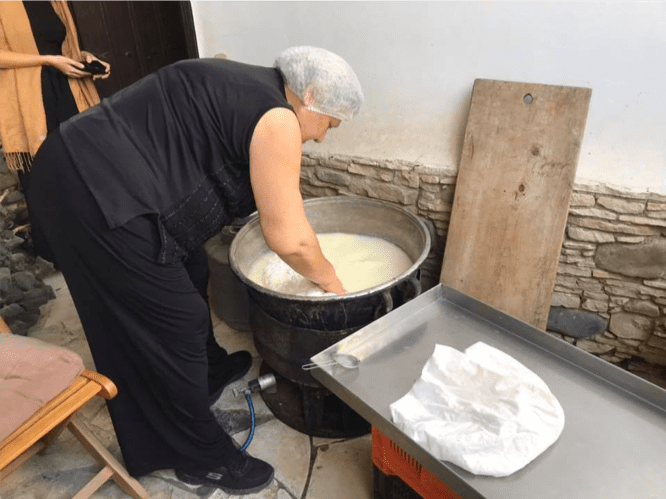 Our project, called "Mission Tradition", aims to rekindle the interest of Cypriots in the rich cultural heritage of the island. We work in a team of 7 volunteers from different countries: Italy, Spain, Romania, Martinique, North Macedonia and Czechia, which is interesting in itself to work in a multicultural environment with people from various backgrounds. It is a unique possibility to understand and appreciate different realities and life styles. Moreover, our work basically lays in the exploration of Cypriot culture, and this is amazing for me. We search for local traditions, trying to capture and record them by descriptive as well as visual techniques, and based on them then organize various workshops, events, etc. in order to bring these customs closer to the younger generation. In addition, we have the opportunity to follow and develop our individual interests in form of personal workshops. So far, I feel that I have learnt from this experience a lot, and not just because when you successfully finish your own project it is satisfying and gives you self-confidence, but also because every task related to our project is done by us. And that includes a little bit of everything, from graphic design (we are creating our own website and flyers), project management, promotion, to fundraising for example. In order to gain as much experiences as possible, we have also been offered the opportunity of volunteering in other organizations. And for me that organization is Caritas Cyprus, whose mission is to work for a better world for those vulnerable, oppressed, and living in poverty. Working with marginalized groups regardless of religion, race, and orientations it is such a meaningful job which enables you to expand your horizons outside of your social and cultural bubble.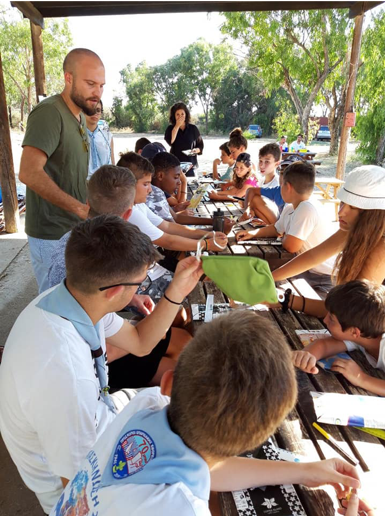 If you are thinking about doing ESC, you should be aware that of course the experience depends on the project's objectives and the personalities you are going to meet and work with. But definitely I would suggest you to try it. It gave me confidence which is so much needed in life, and I have a great time here in general. Usually we have a lot of fun in our office; so far, I volunteered in several arts festivals, travelled around the island, enjoyed the delicious food and local hospitality, which by the way is limitless. For sure, sometimes you will feel like you left your family alone back at home, and you will miss your friends. Still, it is worth it. Personally, I met such wonderful people, who became my close friends in the blink of an eye, and I cannot imagine that I will have to leave them when our year will come to its end. Some also could argue that volunteering is not such a good approach because everybody should get paid for their work. My response to this is very simple: volunteering can teach you that money is not the only value one can gain, acquiring experiences it is invaluable. You will gain so many new skills or discover the ones that were already there but never knew about them. Above all, when you are doing something meaningful, "a good deed", it will enrich your heart.
About Cyprus in general? Cyprus is the land of cats. You can find diverse types: lovely cats, psycho cats (one of these we actually adopted, our office mascot now), the cutest kittens, hungry cats, annoying loud cats (these usually appear right when you want to enjoy your dish), cats that want to kill you, and cats that want to kill themselves which cross the roads like queens owning the place, slowly and confidently. This country can be perfectly described by just two words, σιγά, σιγά [siga, siga], the phrase is widely used across the island, and translation would be slowly, slowly. Actually, they are more than words, they are a life style and it is very easy to get used to it. Even though, I am not going to lie, this mañana style sometimes can be frustrating. Especially when you rely on someone's work to be finished on time, you schedule everything perfectly, and then the country strongly reminds you that: Hey girl, you are not in Germany or in other country where punctuality conveys good manners, you are in Cyprus σιγά, σιγά! …If you want to improve your improvisation skills, come to Cyprus! -Michaela Minasova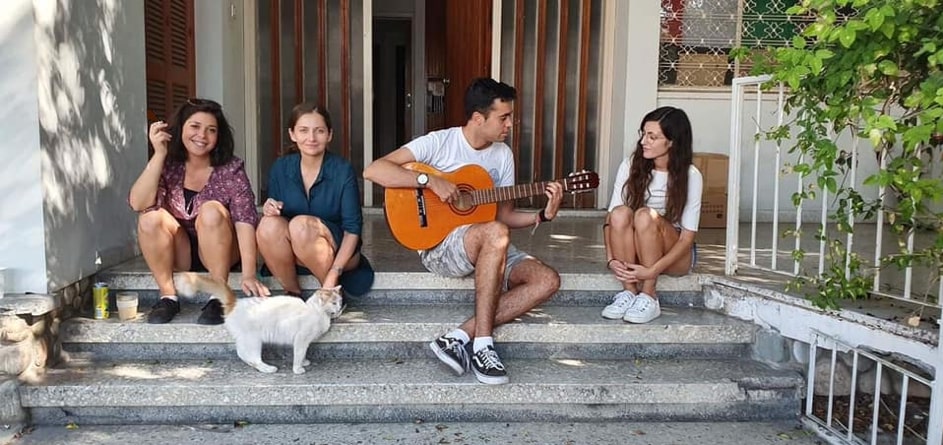 My name is Gabriele and I've always been in arts, I studied theatre for years, first on a practical level in an acting school in my city, then on a theoretical level in the University in Bologna: during and after my studies i made a lot of workshops about acting and I have a couple of experiences as director and workshop leader. Passionate about photography, I know all the processes related to analogic photography (shoot, develop and print) and some skills about digital photography.
How it all started:
Despite my main interests, in Italy I was unemployed, so I decided to take the last train I could to make an experience like that: the age limit for an ESC is 30 years old and, having this age, I chose to spend one year abroad living an amazing experience!
The Project:
Since I arrived in this country, I found a very interesting environment, the issue of Cyprus is at the same time problematic and interesting, it divides a country but, at the same time, create two different environment both full of life and nice people! I found kindness and welcoming spirit from the people of the Republic of Cyprus and of the occupied area. Fortunately, I did not found difficulties to get used to the local lifestyle, I adapt myself very easily and the "sigà sigà" leitmotif fits very well in my lifestyle!
For the NGO where we work, we are running several group project about the tradition of Cyprus, we researched, made interviews, wrote articles about some traditions of the Island: we made a project about the products from roses in Agros and we are working on halloumi making and winemaking. We split tasks each other to run the group project, and we put the work together and we write articles to disseminate on the web through social media and a website.
In those months I was able to visit some areas of the Island and I enjoyed so much! Every experience here are interesting: one of the better situation where I was involved was a pre-marriage party: as I know, in the villages they use to make a week of parties every night before the marriage; the firsts one are reserved for close relatives and friends, like 100 people, and the last one, the one I attended, there was like 300 people: an amazing experience! Local food, local music, local dances and fireworks in a public street arranged for the occasion: I had a great time, it was the most local and traditional experience I had since I'm here!
Another interesting experience was volunteering at a Festival, called Xarkis, in a village called Polistipos, which means "a lot of vine plants" because they use to cover terraces and roofs with vine plants. The festival was focused on music ad performances and I met a lot of artists and musicians during my stay there.
The Outcome: 
Volunteering abroad is a great occasion to meet new people, have a great time thanks to European mobility programs. Knowing different cultures, deal with new uses and a new way of life, cooperate with people from all Europe and know people from all the word is a great occasion to verify how much a person is open-minded and grow up as an individual. It is a great occasion that I suggests to experience every young person can apply. During my stay I improved my English vocabulary, I experiencing to live for one year with unknow people and deal with all our needs, I'm learning greek (sigà sigà) and I'm having the occasion to improve my skills in the art field.