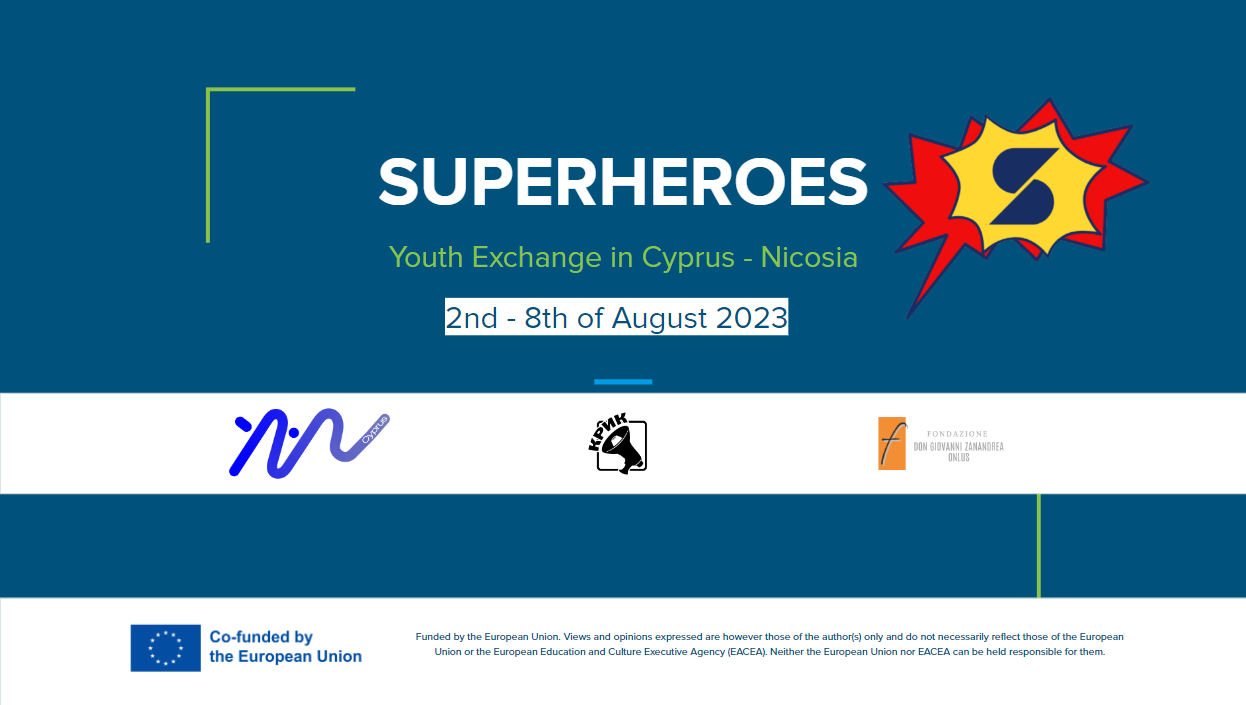 The main idea of the activity is to create an inclusive opportunity for young people to contribute to the final product of the project, which is the
creation of a comic book. You will be creating innovative practices for inclusion
through non-formal education.
Project Objectives:

🟢 To encourage young people to promote social inclusion through identifying the positive examples of their communities.

🟢 To create innovative practices for educators, teachers, parents and other staff connected to education and upbringing of young people.

🟢 To create new practices in social inclusion education and increasing the inclusive practices in youth work.
A partnership between:
– Youth for Exchange and Understanding Cyprus (YEU Cyprus)
– CENTAR ZA MLADINSKI AKTIVIZAM CMA – KRIK (Republic of North Macedonia)
– Monikom-Trejd Katerina DOOEL Uvoz Izvoz Skopje (Republic of North Macedonia)
– Fondazione Don Giovanni Zanandrea Onlus (Italy)
🏠 Accommodation & Meals are provided by the project.
Participants will be staying in standard double rooms at SEMELI HOTEL in Nicosia

💰 Travel Budget for participants:

_Republic of North Macedonia: 275 EUR
_Italy: 360 EUR
_Cyprus: 23 EUR ( Local Transportation )

Travel budget is estimated by Erasmus+ distance calculator
Arrival day: 02/08/2023
Departure day: 08/08/2023
OPEN CALL FOR:
6 participants between 18-30 years old from each partner country, including 3 young people with disabilities.
1 group leader (no age limit).

Each national team will have 1 accompanied person for the team.

👉 Participation in the project is free of charge.
For more information contact the hosts YEU Cyprus: +357 99573646
Information of the Hosts: projects@yeu-cyprus.org

👉 Participants will be reimbursed by their sending organization after presenting the relevant proof and documents.
👉 Participants have to keep all original boarding passes, bus, train train tickets etc.
Please carefully read the INFO PACK carefully before applying.
To Apply, complete the Application Form.