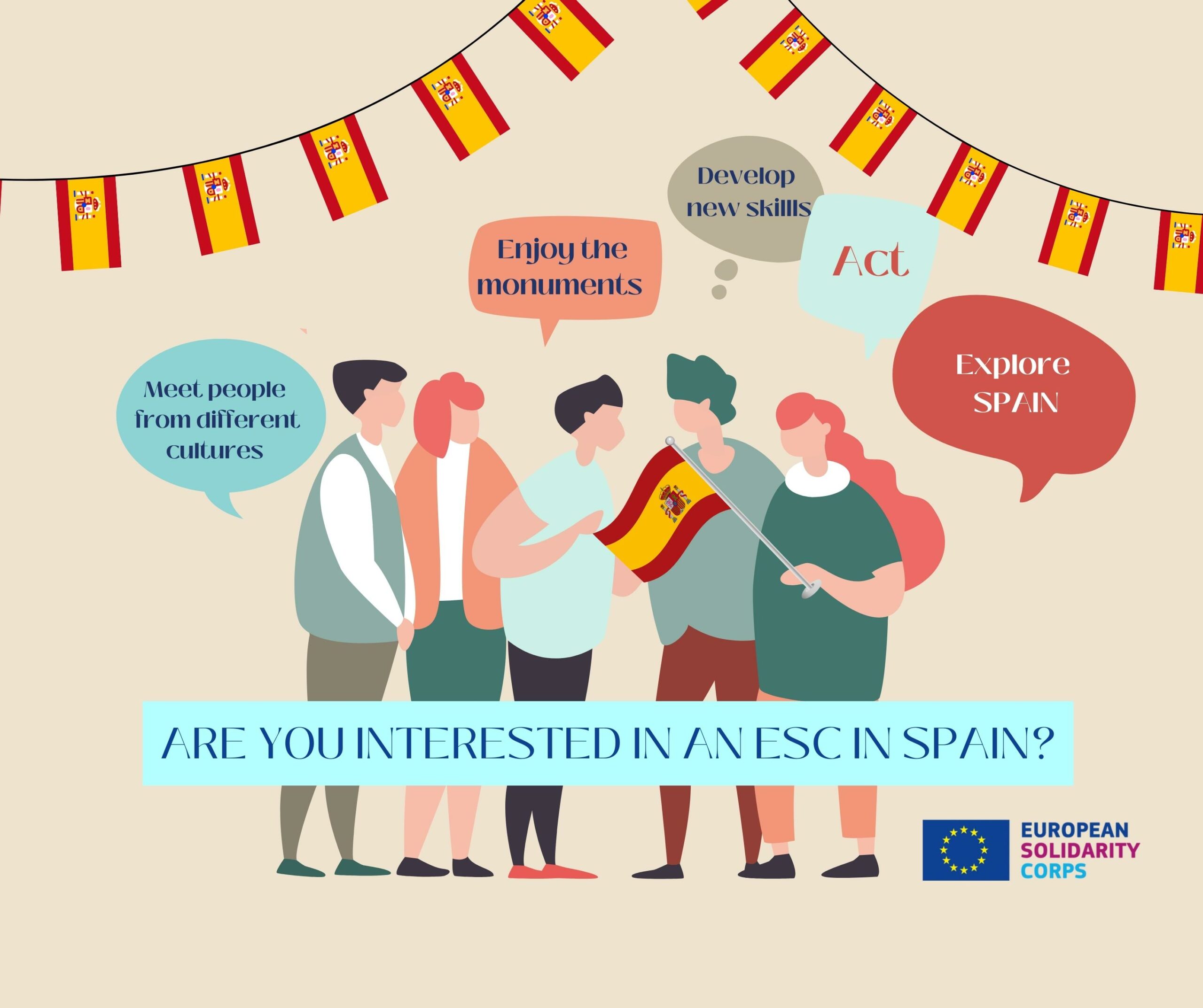 Work with IES Campanillas, in an 8 months ESC volunteering in Málaga -Spain.
Project Goals:
IES Campanillas is a public center in Malaga that has been working on European projects since 1987. The main objectives of the center appear in our center plan, within the general lines of pedagogical action:
Integration and equity.
Integral formation.
Respect and coexistence.
Education in values and skills.
Respect for the environment and sports culture.
European projection and languages.
Use of TIC.
Project Activities:
All activities revolve around inclusion:
Meeting with students from various levels of Secondary and High Scool.
Participation in extracurricular activities (excursions)
Work in the classroom with students of the center, through group work with students working on principles of solidarity, democracy, and tolerance.

Participation in the classroom with students of the center, conducting an activity around the values of solidarity and volunteering. The idea is that the volunteer tells the students of the center what European volunteering consists of and gives a brief presentation about his or her country of origin.

Exchange of ideas with students of the canter, allowing interaction of ideas.
Secretarial support with administrative tasks. Allows volunteers to get to know the inner workings of a school.
Participate in the task and participation in the preparation of some kind of activity to be conducted.
Registration of titles and updating of database.
During the project, the realization of cultural exchange is from great importance to us. Our volunteers will play a great role in the development of their own and the student's social and cultural skills. As a volunteer, you will be able to meet a large amount of people with different backgrounds and ages. This will help to achieve a new point of view of Spain.
Your Characteristics:
The ideal volunteer should have the following characteristics:
Between 18-30 years old;

Open and interested in working with persons from the vulnerable groups that we refer to as target groups;
Able to place this experience in a long-term perspective of personal and professional development;
Willing to learn new working methods and develop the necessary skills for organising inclusive activities;
Ready to adapt to a flexible working programme, but also to follow the responsibilities he/she will be assigned with;
Being open to leave their comfort zone and integrate into a foreign country, different in terms of customs, traditions, mentality, culture etc;
Having difficulties in choosing a career or without employment options due to lack of practical experience.

You have to be a resident of Cyprus.
Further Information:
Accommodation provided.
Food allowance & pocket money provided.
International transport is covered to a certain amount. The EU sets a budget depending on the distance.
To Apply:
.Read the call in the website here, for more info on the activity and application process. Deadline by 25th September.