YOUTH EXCHANGE OPPORTUNITY | 'EUROPE IN THE TIME OF CRISIS' CRISIS TWO: DEMOCRACY CRISIS | RABKA-ZDRÓJ, POLAND 9-17/03/2023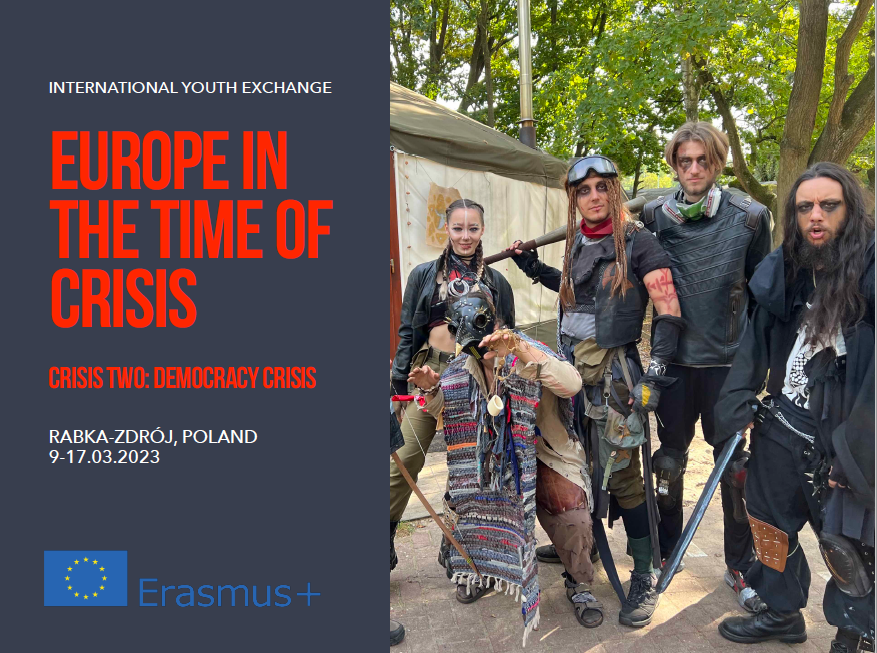 OBJECTIVES:
The aim of this project is to enable young people to build sense of understanding, orientation and resilience in nowadays world through:
Exploring the state of democracy in modern Europe, current issues connected to it, their political consequences and impact on young peoples lives.
Rising a feeling of responsibility for our society and it's practical manifestation
Exchanging views and opinions of young people from different countries on the topic.
Building a sense of "being on the same boat" with young people from all over Europe and finding common approaches to those problems.
'Europe in the time of Crisis' is an international youth exchange aiming to strengthen feeling of responsibility of young people forthe world that surrounds us.
During the project we will analyze the state of Democracy in modern Europe and reasons for its crisis in our countries – try to understand different interests that are holding society from taking immediate action, to understand political processes connected to it and reflect on its impact on our lives.
LARP (Live Action Role Play Game) is a combination of game, simulation and improvised theater. It consist of a storytelling part in which the context and the world that participants operate in is described, the creation of characters that participants become and the rules of the game that everyone plays. LARPs also involve additional elements like props, scenography and intrigues that together create the complete story. This story lets participants experience unknown and play the game in the way that emphasis valuable content, as well as develop their competences: knowledge, skills and attitudes.
Through the LARP game we will discover mechanisms that drive the society in times of crisis. We will reenact how democratic processes are organized, what motivates society to take part in it and how different groups of interests can manipulate the process in their favor. We will search for solutions to the crisis and find out what does it take to show solidarity, take difficult decisions and be accountable for own actions.